Create the perfect effortless look with the Balmain Hair Claw Clips
Create the perfect effortless look with the Balmain Hair Claw Clips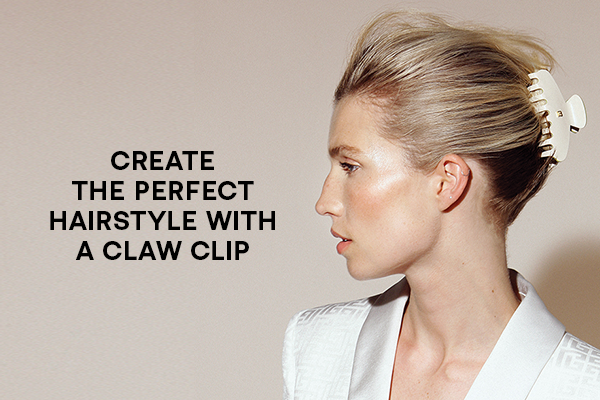 The revival of the 90's claw clip is undeniable. This hair accessory has gotten more popular over the last few years, due to its effortless style and nostalgic roots. Whether you're going for an easy updo, a half up-half down, or a slicked back look; with a claw clip you can easily add a bit more flair to your everyday style. They can be incredibly chic and add a certain effortlessness to any outfit, while also being practical. You can use them to throw your hair up when you're on the run or create an easy stylish look during the day. Even better is how simple it is to incorporate them into any hairstyle. They also serve a temporary, functional purpose in our busy lives. Whatever it is, the claw clip is here to stay.
With the comeback of the popular hair accessory, it's been redesigned with different sizes and shapes to fit all different types of hair; from curly to straight, long to short, or thick to thin. The different sizes that are created by Balmain Hair Couture are the Large, Medium, and Small. The unique elastic system in the clip secures that the accessory stays firmly in the hair and does not slip. These claw clips can be used to create a range of stunning hairstyles where it's used as a real statement piece when clipped into the hair. The most popular hairstyle to create with this accessory, is the updo. You can achieve this look by styling the hair as desired with a hot tool (don't forget your Thermal Protection Spray) and pull some pieces back to create a ponytail. Once you created the ponytail you can twist the hair upwards. Either use the Large or Medium claw clip to secure the hairstyle and pull out some front pieces to create a casual, stylish look. If you're going for a half-up, half-down hairstyle we recommend using the Small clip.
Another hairstyle to create with the claw clip is the sleek look. Start by using the Moisturizing Styling Cream and blow-dry the hair with a large round brush to get a nice shine and to tame frizz. Brush the hair into the desired shape using the Balmain Backcomb Brush with some Styling Gel Maximum Hold. Create a low ponytail and twist upwards. Make sure you use a Large claw clip to secure this hairstyle to hold all of your hair in place. This look is feminine, polished, and chic.
Whatever look you are going for, the Balmain Hair Couture acetate clips are the perfect hair accessories for you.