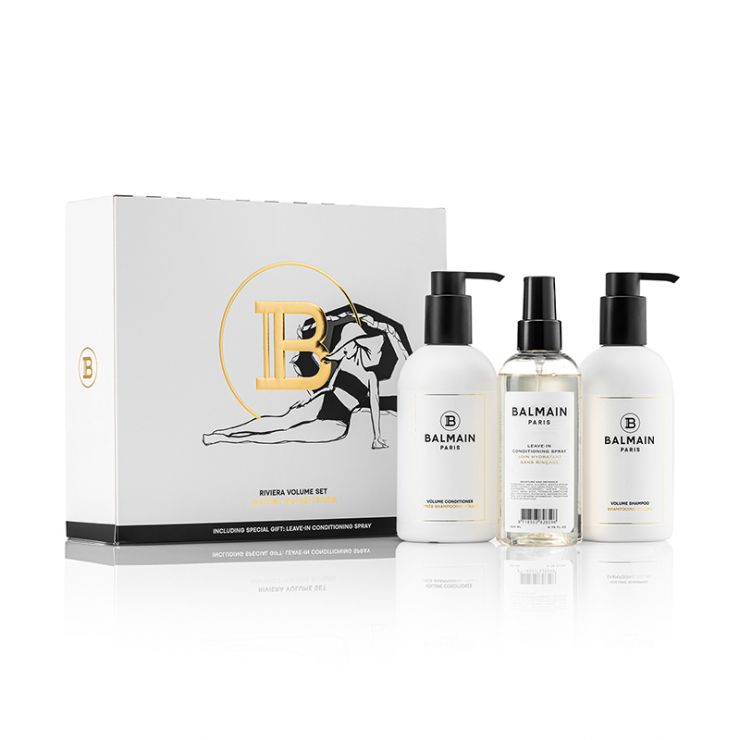 In short
The Riviera Volume Set is a lightweight, mild daily care set specially formulated to create shiny, manageable and full-bodied hair. The Volume Shampoo and Conditioner create a cosmetic, wash-out volume effect on the hair without opening or damaging the cuticles of the hair. The leave-in Conditioning Spray is perfect to detangle and nourish the hair. A gentle nourishing line with volume boost for bouncy, weightless hair.

Adds volume without adding weight

Perfect for thin, fine hair with a lack of volume
Description
The Riviera Volume Set consists the Volume Shampoo, Volume Conditioner and Leave-in Conditioning Spray to create and maintain shiny, manageable and full-bodied hair.
The Volume Shampoo cleanses the hair and scalp whilst lifting flat, fine, and thin hair. Gently removes access oils and sebum that normally weighs the hair down.
The Volume Conditioner lifts thin and fine hair. Enhances the natural glow and leaves the hair detangled and without frizz. Protects the hair against UV-rays to avoid damaged and dull looking hair. Use the Leave in Conditioning Spray to repair and condition the hair throughout the day. This mist is infused with Balmain Hair's Signature Fragrance to leave the hair with a refreshing fragrance.
How to use
Start by cleansing the hair with the Volume Shampoo. Apply the product to wet hair, massage softly and rinse thoroughly. Follow up with the Volume Conditioner by applying the product to towel dried hair. Massage softly and rinse out after 3 minutes. Use the Leave in Conditioning Spray as a finishing product by applying it to towel-dried or dry hair. Do not rinse off.