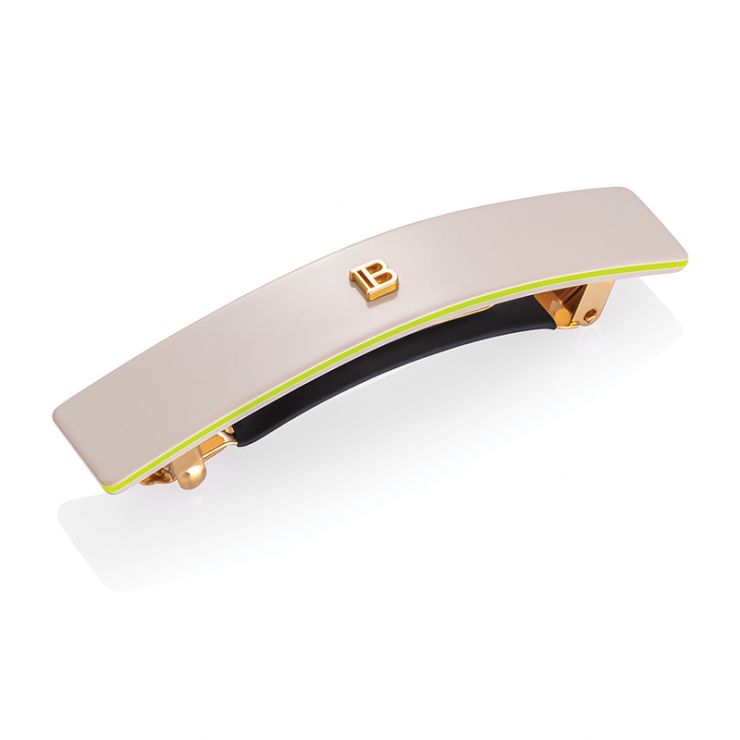 Limited Edition Barrette Pour Cheveux Medium SS22
In short
The luxurious handmade hair Barrette is emblazoned with an 18K gold plated B and a fine neon yellow accent on the sides for a subtle, sophisticated look. The extremely strong yet flexible material is hypoallergenic and gentle to the hair and scalp. The hair accessory features a high quality genuine French clip underneath the barrette to ensure perfect grip on the hair and can be worn to hold hair back from the face, adorn a ponytail or enhance an up-do.
Handcrafted Hair Accessory
Description
The Spring/Summer Limited Editions celebrate the diversity & inclusivity, employing nude tones of all complexions with neon detailing whilst remaining classic Balmain. The collection is entirely handcrafted by using traditional techniques. Every single item in this collection features the signature golden detailing. This returning design element can be found in all Balmain Paris collections.
The medium hair barrette of Balmain Hair complements a wide range of styles and is an easy way to elevate your look. Create a half-updo or low ponytail with it or just use it as an adornment.
How to use
Create a low ponytail and fixate the hair barrette.