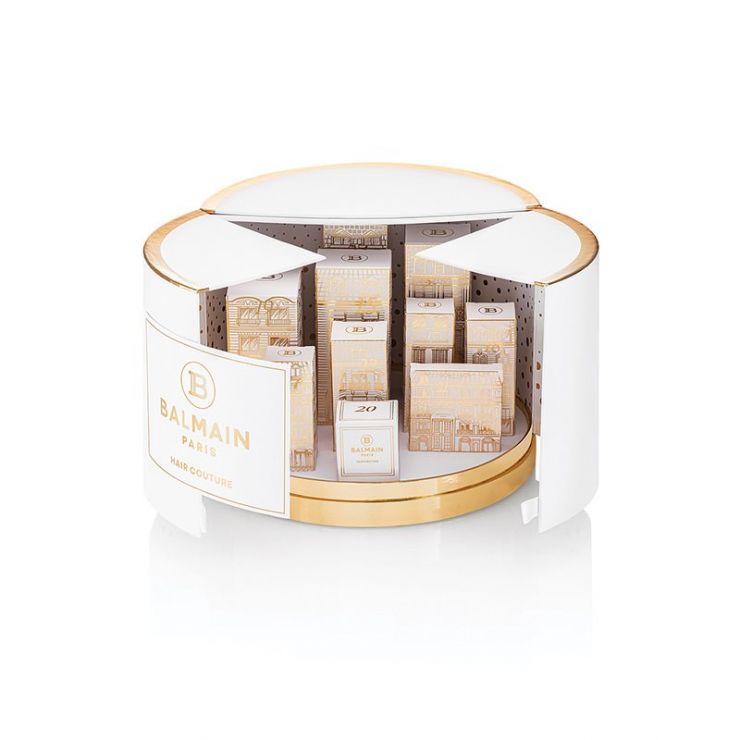 In short
Balmain Hair Couture presents "La Ville Lumière / The City of Lights". A Gift Calendar designed to represent the world famous Parisian nightlife. The magnificent Parisian buildings each contain one of the 10 beauty indulgences of Balmain Hair Couture.

10 iconic Balmain Hair Couture gifts

The perfect gift for the holiday season

Inspired by the Parisian Nightlife
Description
Open the doors of this years' Gift Calendar and discover the magnificent Parisian buildings, covered by bright fairy lights, in a setting designed to bring out the magic of the season.
This year, the Gift Calendar brings you to the outstanding and luxurious Paris Nightlife.
La Ville Lumière (Gift Calendar size Large) contains: Texturizing Salt Spray 200 ml, Moisturizing Shampoo & Conditioner 50 ml, Leave-in Conditioning Spray 75 ml, Thermal Protection Spray 200 ml, Mini Detangling Spa Brush, Black Fourche, Argan Moisturizing Elixir 100 ml, Golden Pocket Mirror and Scented Candle.
How to use
Discover the 10 beauty indulgences of Balmain Hair Couture.